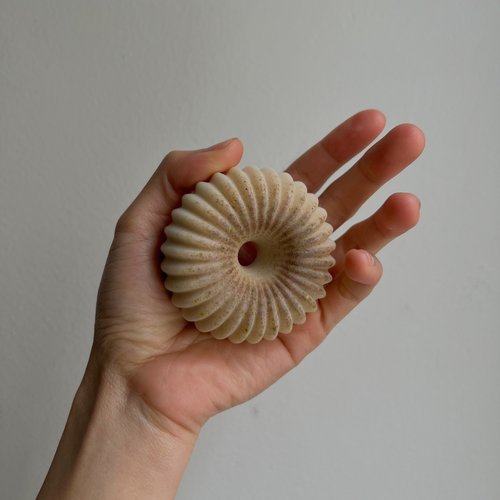 1 / 4
Béo

Béo lülala Vetiver + Kaffir Lime Donut Soap Bar
$16.50 —
net wt. 3oz / 85g ±
sunset to musky coasts, simmering cedar sands, vivid vetiver winds

Intertwining organic and geometric shapes, our artisanal soaps area hand crafted only in small batches & made upon order. This allows us to be certain with our quality and care. Our goal is to bring appreciation into everyday life and everywhere possible. Allow small things to make you feel delightful. The shapes of soaps are ever changing. Let it be.
- for all skin types
- sulfate & silicone free
- paraben & preservative free
- vegan & cruelty free
- biodegradable
- minimal packaging
Material
- for sensitive to normal skin
- sulfate & silicone free
- paraben & preservative free
- vegan & cruelty free
- biodegradable
- minimal packaging
Craft
Starting a small business as a Taiwanese immigrant, who is yet an American citizen, speaking English as a third language, a person of color, Southeast Asian islander, a female who will soon to turn 30, and 5 feet tall; I am privileged and proud to carry these identities that BIPOC folks who look just like me and who don't look like me have been fighting, failing, succeeding, coming together and directly/ indirectly passing this starting point to me. It truly didn't come anything close to easy, and my participation is held accountable for the continuation and movement to fight for equity. All the efforts, tears, and sweats are held close to my heart, grounding and inspiring me into the everyday.

Growing up in Taiwan, recognizing a portion of the knowledge I was exposed to besides my own Taiwanese culture were very much white supremacy ideals, and sense of beauty was limited by white supremacy standards, and perfectionism. Being intertwined between my own culture and only seeing this manifest, I was ignorant and passive. I am reflecting to the history of my exposure and going forward to make honest shifts with the mixtures of my exploration, values, recognition, and honoring the many senses of beauty with respect.

As a small business starter, béo and I are not yet capable of offering much financially, but actions won't be dismissed. I demand if you have choices to support black and indigenous owned small businesses, choose black and indigenous owned small business before me. On béo's behalf of the action, we will add a soapy gift to your order if you have receipt/proof of supporting black and indigenous owned small business within a two-week time frame.
https://cdn.shopify.com/s/files/1/1124/0032/files/beoissue_gama002-web.jpg?v=1699662493