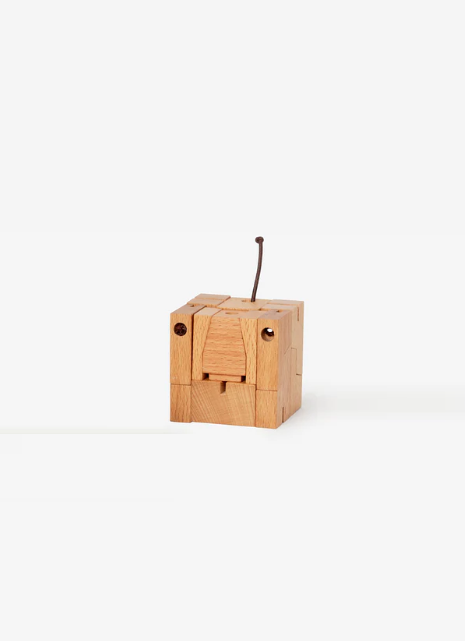 1 / 3
Areaware

Cubebot® Milo Micro Toy Dog
$12 —
Milo is a toy dog robot inspired by Japanese Shinto Kumi-ki puzzles. Just like Cubebot, Milo can be folded into dozens of poses. When it's time for a nap, Milo folds back into a perfect cube.

Dimensions: 1.5 x 1.5 x 1.5 in
Designer: David Weeks
Fabric: Beech wood, water-based paint, elastic cord, silk screen paint
Material
Beech wood
water-based paint
elastic cord
silk screen paint.
Measure
Dimensions:
Small, 2.3 x 2.3 x 2.3 in a cube
Micro, 1.5 x 1.5 x 1.5 in a cube
Care
Wipe clean with a soft, damp cloth.
Craft
Areaware makes friendly objects for designy people. We believe the best design evokes good feelings, and think everyday objects should be as fun as they are functional.

We make everyday objects for home, work and play that are for keeps. Our products are artful, fun, and have a story just as unique as the designers who created them.

David Weeks was born in Madison, Wisconsin, raised in Athens, Georgia, and educated in Providence, where he received his BFA in painting from the Rhode Island School of Design.
https://cdn.faire.com/fastly/666dc4d2101142965979377fe91f02da81ae08d24a278578705b5287286cbff3.png